Mortgages totals are still falling because of the large downturn in new grants during the crisis. In 2017, the Spanish mortgage market contracted to about 45.2% of GDP, down from 48.27% of GDP in 2016, 51.51% in 2015 and 61.54% in 2011, according to the ECB.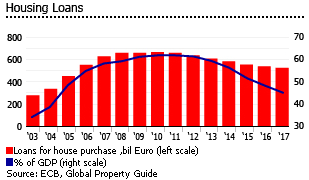 However, new housing loans are increasing sharply. In 2017, the total number of new home mortgages increased 9.7% y-o-y to 310,096–but still far, of course, from the average of 1.13 million new home mortgages granted every year from 2003 to 2008, based on figures from INE. The amount of new home mortgages also surged 16.6% to €36.19 billion over the same period.
"This is the largest registry of mortgages granted since 2011, which shows the consolidation of mortgage financing in our country," said Beatriz Toribio, director of Studies and Public Affairs of Fotocasa . "More mortgages are granted and for greater amount because there is liquidity and the interest for the purchase of housing has returned," he added.
Rents rising, yields recovering
In 2017, average apartment rents in Spain rose by 8.8% y-o-y to €8.15 per sq. m., according the real estate portal Fotocasa.
Rent increases were seen in almost all regions.
In Cataluña, rents were up 10.2% y-o-y to €12.39 per sq. m. in 2017
In Madrid, rents increased 6.3% y-o-y to €11.45 per sq. m. in 2017